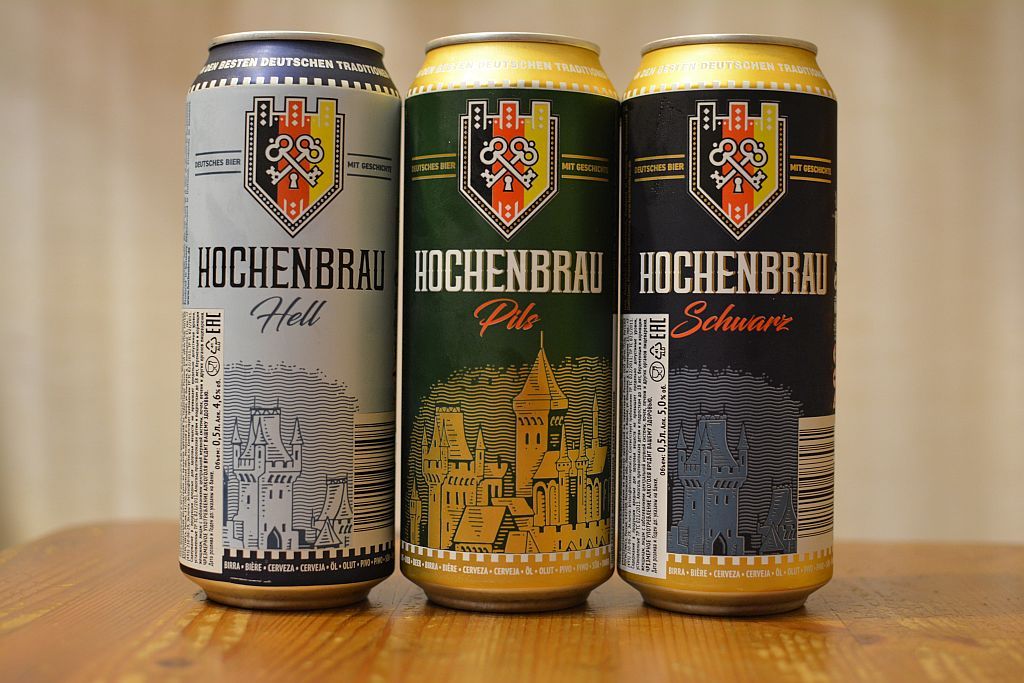 I don't know. Should we even be tasting and reviewing beers like this? Privatbrands are baked like pies and rarely differ in content, both from each other and from the "parent" brand. The German dictionary is big and you can take a word from it for a long time, add the ending "brau" and a new brand is ready!
In this case, the Hochenbrau brand is brewed at the OeTTinger brewery and I highly doubt that the beer itself is any different. All this luxury is sold at Bristol for a ridiculous 45 (without a few pennies) rubles. Those who are true believers in "imported better" even put a notorious white translation sticker on the can. Exactly drawn, typed. After all, "as you know," the real one is only with a paper slip, and if the can itself is printed in Russian, then it's a "special brew for Russia," which is also "as you know" worse than the original.
That's how Russian consumers are – they have to put a piece of paper on the can, and they have to make the beer worse. Otherwise they won't buy!
Hochenbrau Hell (Germany, Gotha) – 4.6/10.3 Malt aroma and flavor. A little bit of cardboard, otherwise clean. In the aftertaste is even noticeable hop, which is not a frequent phenomenon for hops. Just a light beer to wash down the food, which is what it is brewed for. According to the specifications and taste, in the Ottinger original it is listed as Pils. Grade "C."
Hochenbrau Pils (Germany, Gotha) – 5/11.3 What is the equivalent of Ottinger, I do not know, but I would not particularly trust the specifications on private brands. The aroma is sulfurous. The taste is clean, but a drop of iron is still coming through. Yes, pils. Simple, but not bad pils. Grade C+.
Hochenbrau Schwarz (Germany, Gotha) – 5/11,3 But the Schwarz, as in the case of the Oettinger is quite pleasant. Yes, it's not very full-bodied, but the burnt and coffee tones are noticeable and pleasing. Grade "B."
I wish I had a Bristol store near me. For 45 rubles, not a bad alternative to beer from the MPK. Expect from it wow-effect, of course, is not worth it, but its price is justified. Considering the fact that the beer has no obvious flaws, as is often the case with private brands brewed in the middle of nowhere, it's a great offer.