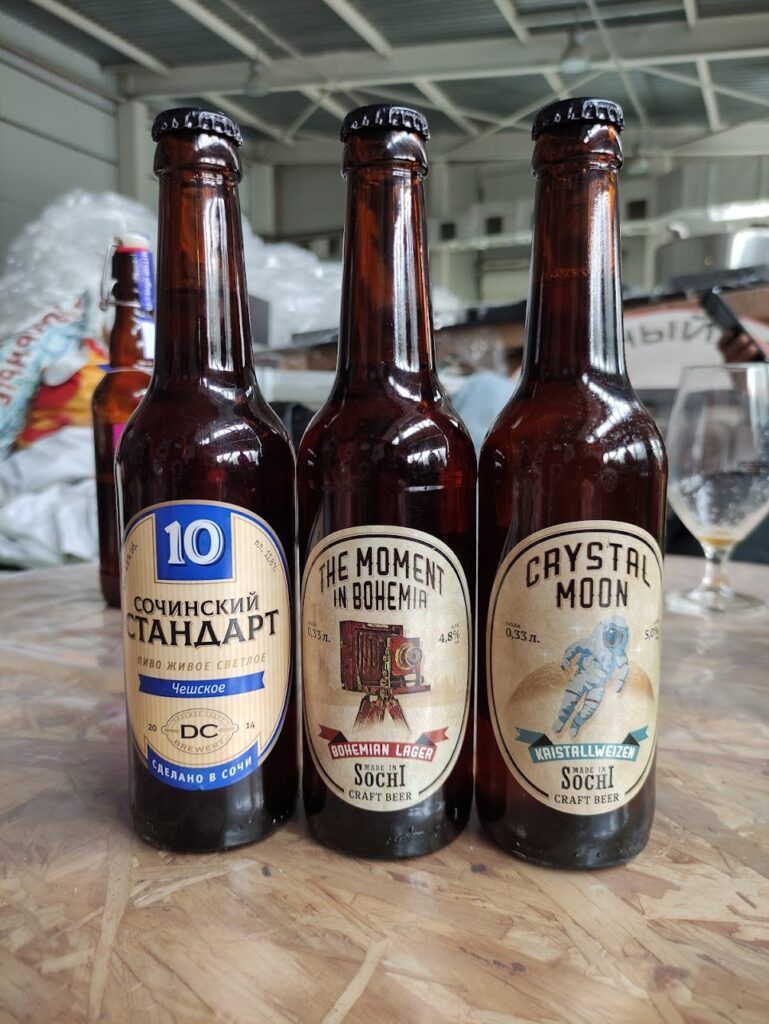 Let's go back to Rostov for a while. Lest we be left with the feeling that there's "nothing to drink." Yes, the local producer is usually something else… But, there is, for example, a beer from Sochi – Dagomys Craft Brewery. I first tasted them at Prodexpo. At that time against the background of other beers it did not leave any special impression. But, when the choice of Skipper and Papa Brew, you start to appreciate those little pleasures, too.
Dagomys Craft Brewery started in 2014 and currently brews about 15 beers. There are both "craft" varieties and traditional ones. At Rostov's Lenta, I bought only the traditional ones.
Sochinsky Standard 10 Czech (Russia, Sochi) – 4.8/11.8 In flavor caramel. Taste full and for a 10 ENS is very saturated. Most likely because of the caramel malts. Very clean. Almost no hops. What is the Czech Republic, not entirely clear, but no defects, and this already rejoice. On the official website it is even listed as "wheat"!!! Grade "C".
The Moment In Bohemia (Russia, Sochi) – 4.8/11.8 Also incomprehensible style. Not like Bohemian Pils. Just like in the "Standard", a lot (for this style) caramel malts and few hops. In general, it differs from the previous one in that there are slightly more hops. In terms of purity, too, there's nothing to complain about. Grade "C +".
Crystal Moon (Russia, Sochi) – 5/12 A rare style in our countryside – crystallweizen, i.e., weizen, but filtered. Here the style is kept. A little banana in the flavor. The taste is soft, but a little flatter than the usual Weizen. In the aftertaste also banana, but very weak, which is normal for crystallweizen. A little bit of bread. Not bad. Grade "C +".
I am pleased with the absence of defects, but I am always surprised by such a liberal treatment of the stylistics. I'm not a puritan and do not pray to the BJCP, but I do not understand – why call a wheat or Bohemian pilsner that is not! And not at the level of nuance, but in a very unlikeable way. Nevertheless, against the background of the other Southern breweries, Dagomys Craft Brewery looks quite good.