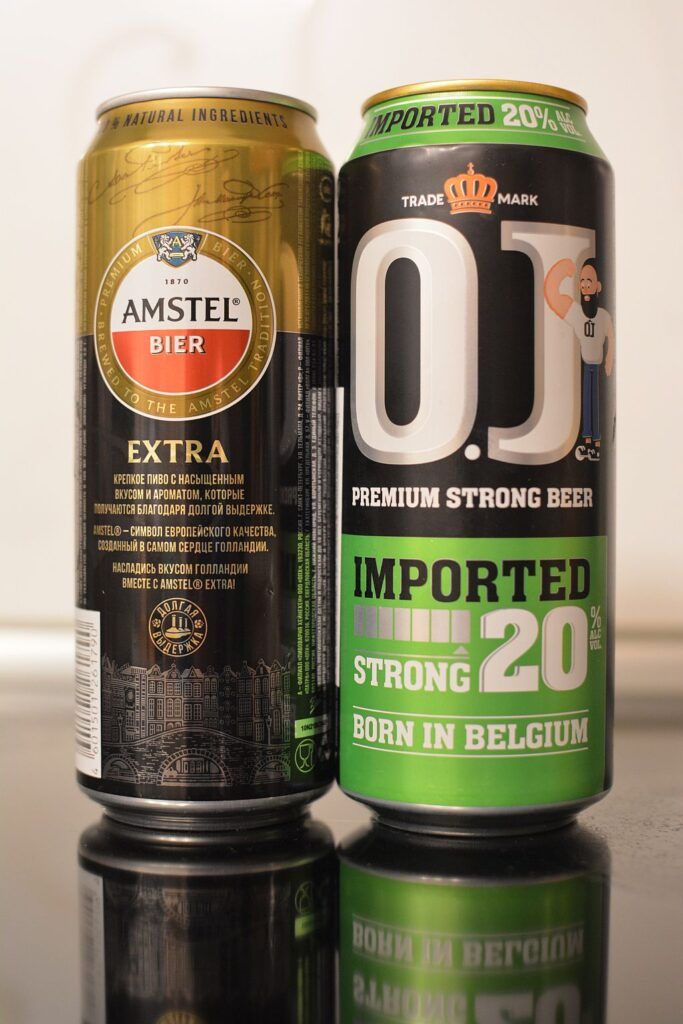 Two strong beers today – Amstel Extra and O.J. Strong 20%. Both are labeled as strong lagers. I don't quite understand the difference between the Bock style and Strong Lager. The Bock style is listed in the BJCP, but the Strong Lager style is only listed in the proverbial untappd. If you consider bok to be more full-bodied, hearty and malty than strong lager, where do you find that boundary?
My opinion – strong lager, it's some fiction invented to divide the "good" beer and "bad". Like, "Baltika ¹9" is bad, so you can not consider it a side, but for example Augustiner Heller Bock, it's cool, so it's a side!
My point is that strong beer, if you take the brand aside, is not always bad. Löwenbräu Bockbier 8%, which recently hit the market is quite a beer. So Heineken decided to respond by releasing Amstel Extra. And since such a binge, in the chain "Stoffmarket", I bought and O.J.. Strong 20%.
I wrote about the Dutch-Belgian beer O.J. a year ago. I did not like it, to put it mildly. I was intrigued by a beer with 20% strength, but have not seen it on sale so far. But then I came across my eyes and took a chance to try it.
Amstel Extra (Russia, St. Petersburg) – 7/14.6 Full-bodied, but not too sweet. Malty aroma. There is even some dryness in the aftertaste. A little bit of biscuit and malt. The alcohol is well hidden and does not stick out. Let me remind you that the serving temperature is very important for this beer. You should not cool it down too much. At 10-12 ºC, would be just fine. Rated "B-" just as a style of bock / strong lager (if anyone likes).
O.J.. Strong 20% (Belgium, Opglabbeek) – 20/21 Beer from a year ago was produced in the Netherlands. The foam settles instantly, I didn't even have time to point the camera. The smell (not the aroma, exactly the smell) of alcohol. The taste of alcohol with some mash added to it. This is nothing short of "ruff!" Only complete alcoholics who are not squeamish about any alcohol-containing liquids can drink this.
Disproving beer myths, I always say – no one adds alcohol to beer. First of all it is not economically profitable. To make (ferment) beer with 20% alcohol content is quite possible. Samuel Adams' Utopias has 28% alcohol. But anyone who has drunk a beer with 10, 12…15% strength can imagine its powerful, full flavor. Here, on the other hand, there is nothing but alcohol. It's impossible to ferment from 21% ENS as it is stated on the can to 20% alcohol!
In addition, there is the coloring agent E-150 (sugar coloring) and stabilizer E-405 (propylene glycol alginate) for some reason. I am 100% sure that this is not beer, but a mixture of beer (or even wort) and alcohol. It's impossible to drink! If you do consider it a beer, then O.J. Strong is a 20% contender for the worst strong beer in the world! Rated "F".
Оценка
Дата
Пиво
Рейтинг