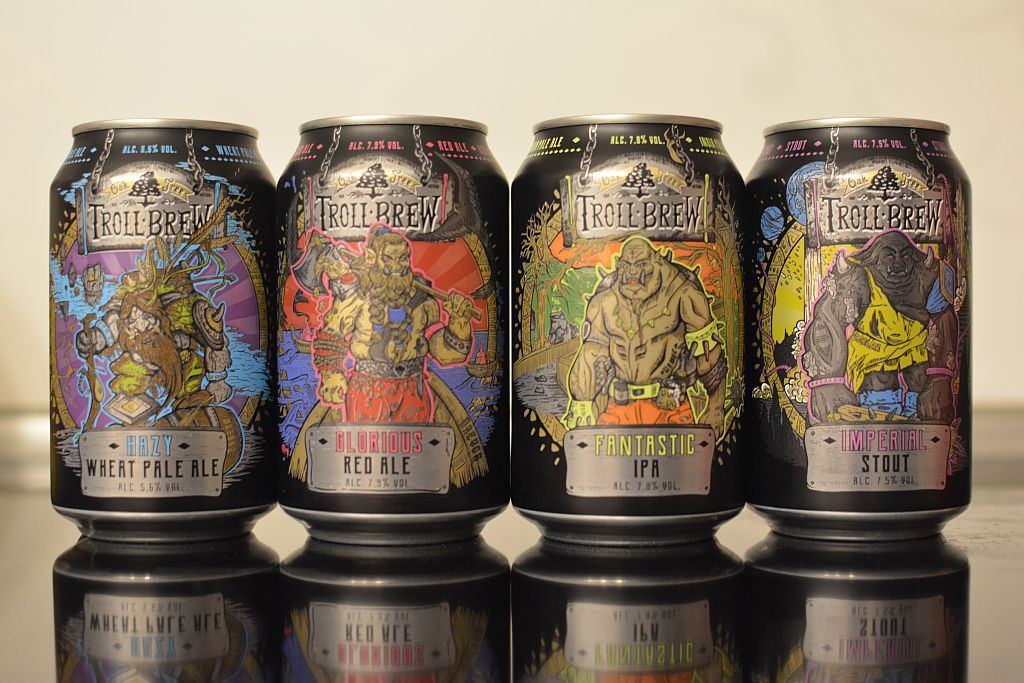 Perekriostok has a new beer from German brewery Eichbaum under the Troll Brew brand. At first I thought it was just a clone of the famous Hop Rider "Monkeys" that are so popular at Red and White. Like, Hop Rider for K&B and Troll Brew for Crossroads. But no! Apparently a separate project, a different recipe.
Both "Monkeys" and Troll Brew have very nice designs. I wonder who did it? It's just in the style of Kraft beer, but better than the majority of what our craft brewers put on the cans. So what's inside?
Hazy Wheat Pale Ale (Mannheim, Germany) – 5.6/12.7 It is not very clear "what the author wanted to say"? But, if we consider the carft as an outlier and experimentation, it is interesting. A kind of hybrid of vintage and pale ale, but not Wheat IPA, but American Pale Wheat (so stated in the "untappd."). Naturally, most users of this social networking site this is incomprehensible.
In the aroma of sweet fruit. The taste is full, moderately sweet. In the aftertaste flowers, flour and the same fruit. I repeat – interesting. Rated "C +".
Troll Brew Glorius Red Ale (Germany, Mannheim) – 7,9/16,5 Again, if you read only the words Red Ale, it is not. But if you take it as Double Red Ale, everything falls into place. However, the realization is kind of unfortunate. The aroma is red berries and biscuit. The taste is not as full as you would expect from such a density. The aftertaste is a little tart. Butterscotch and spoiling everything distinctly alcoholic tinge. Rated "C".
Troll Brew Imperial Stout (Mannheim, Germany) – 7,5/16,5 Again, a beer designed to fire up the backs of Kraftoseks and capable of causing cries of "not in style", "not imperial", etc. Yes, it is outside the scope of our usual imperial stouts, but if you remember the British who have "imperials" far from 10-12%, it is quite understandable.
There are nuts and chocolate in the flavor. The taste is moderately sweet. In the aftertaste, too, milk chocolate and roasted malt. Pretty tasty. Probably the only one in the series that I would re-buy. Rated B-.
Troll-Brew Fantastic IPA (Mannheim, Germany) – 7.8/16.8 Aroma of overripe fruit. Sweet taste. Bitterness is noticeable, fruity, but doesn't match the flavor well. Strong imbalance. C- rating.
As you can see, most of it is quite controversial. Not inclined to generalize that "the Germans can not make IPA". They do. I've had a few very interesting IPAs from German brewers. To make the 100,500th clone of the Americans…? Making something of your own, that's interesting! I don't know who developed the recipe for Troll Brew, what were the objectives, but Eichbaum didn't brew something (except Imperial Stout) that made me want to buy it again. The price of 67 rubles is certainly an argument, but no.
Оценка
Дата
Пиво
Рейтинг