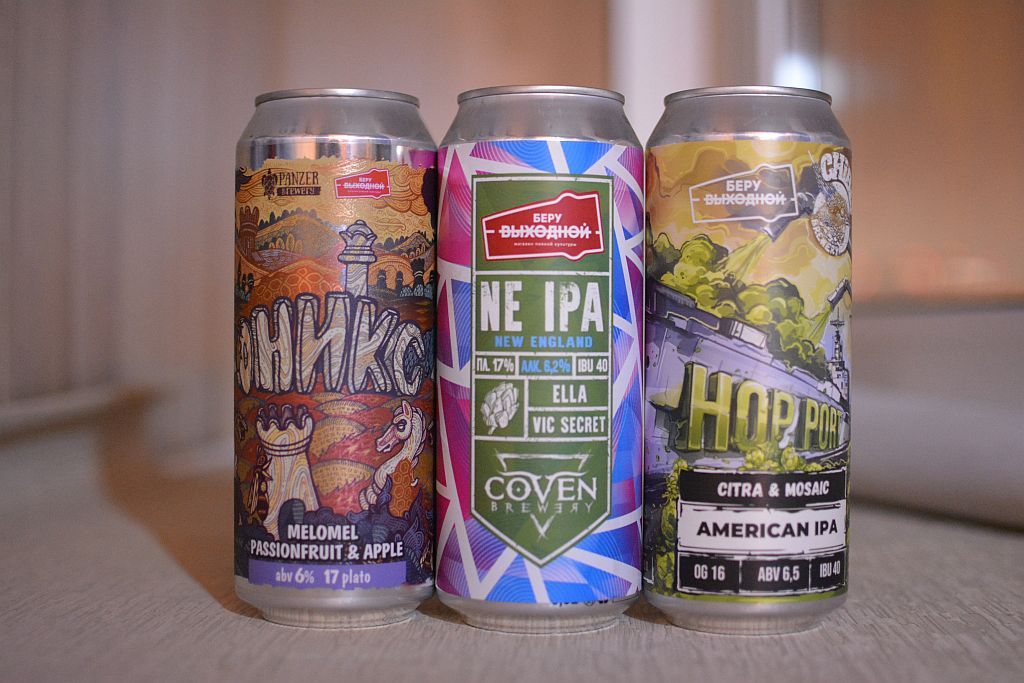 The slogan of the "I'll Take a Weekend" chain of stores doesn't sound like "beer culture stores" for nothing. BV, it's not just selling beer. The company constantly conducts some kind of activities and joint projects. In particular, it brews beer with breweries represented in the network. A year ago I also took part in a similar project. At that time we brewed DIPA in Rostov.
The assortment of such joint brews is already quite large, but I took three beers from breweries I know well – Panzer, Coven and Chibis. On the part of Beru Vykhodnoy, Evgeny Smirnov usually has a hand in the development of the varieties.
Onyx (Russia, Moscow region, Podolsk) – 6/17 To be honest, I did not want to take this can. I'm not very fond of different mids, melomels and brogues. There are also among them of course something that I like, but very rare. As a rule, a strong honey tone and berries-fruits to it. Not my thing. But, the price of "Onyx" was the lowest of the entire line (Panzer in general, the pricing policy is very nice), and I was curious about what they brewed.
Let me tell you right away – I did not regret taking it! The aroma of apples and honey, but all chosen so well that no rejection of this honey does not cause. Moreover, if you don't know, you might think of pineapple. Yes, this is an interesting combination of apples, honey, and to a lesser extent passion fruit.
It doesn't taste cloying, though it is sweet. But, this sweetness is balanced by a slight acidity which is pleasantly refreshing. Very interesting, tasty and well balanced! A- rating.
NE IPA Coven (Russia, Moscow region, Mytishchi) – 6,2/17 Color cloudy, juicy, as NEIPA fans like (although this is not a mandatory component). Aromatics for this style seemed to me a little weak, though of course noticeable. First of all the citrus. The taste is soft, but in the aftertaste a coarse bitterness pierces, which incidentally goes, but leaves behind a viscous soapy trail with the same citrus and pineapple. Rated C+.
Hop Port Citra&Mosaic (Russia, Moscow) – 6.5/16 I took an American-style IPA on purpose and was disappointed. Yes there is some fruit, grass and caramel a bit, but the feeling is that the hops are old. Very unpleasant, even let's say musty. C grade.
Maybe later I'll try something from other breweries in the "I'll take the Weekend" series. That's how it is – what you don't particularly like makes a great drink, and the seemingly win-win options don't work out.
Summary
Reviewer
Review Date
Александр Иджон
Author Rating