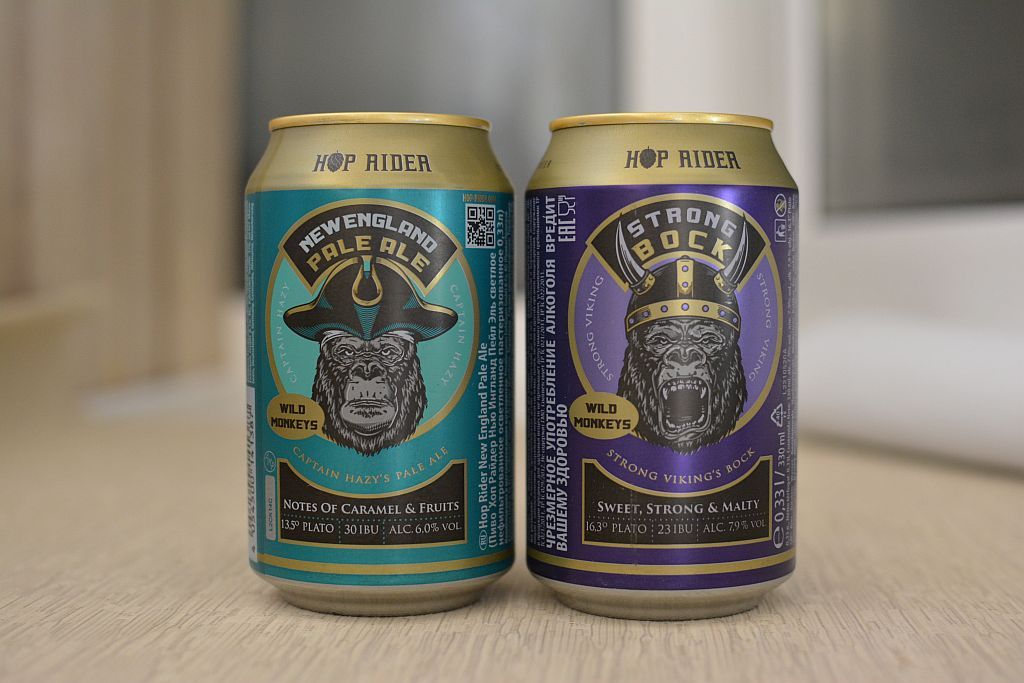 Those who follow beer novelties on store shelves are already aware that there are new "monkeys" in KB – Hop Rider beer from German brewery Eichbaum from Manheim. We must admit that in spite of the various claims, this beer was loved by many. For a token 49.90 we get quite a quality, tasty and stable beer. Let's see what New England Pale Ale and Strong Bock are like.
Hop Rider New England Pale Ale (Manheim, Germany) – 6/13.5 Aroma of hops, grassy. This is what a fresh hop cone smells like. The taste is mild, but tart. In the aftertaste a bit of dried banana, as in Weitzen (wheat malt is in the composition, by the way), grapefruit zest and grass.
In Untappd and in general, you can read indignant exclamations – this is not NEIPA, we were cheated! Yes, it's not New England IPA. It doesn't even say that on it! It says New England Pale Ale. It doesn't say India. How NEPA differs from NEIPA, I don't really understand yet. Could there be a banana note in NEPA? I don't know. Either way – Hop Rider New England Pale Ale is a tasty enough beer, albeit with its own peculiarities that make it difficult to label a style-appropriateness rating. Rated B+.
Hop Rider Strong Bock (Manheim, Germany) – 7.9/16.3 Malty aroma. The taste is soft, slightly sweet. In the aftertaste a bit of flowers and a pleasant woody astringency. The alcohol does not stick out. Here is quite a side and very good, although the name Strong Bock, it is buttery. Rated B+.
The two new "monkeys" were very satisfying and it's a good thing the price is back on track.
Summary
Reviewer
Review Date
Александр Иджон
Author Rating