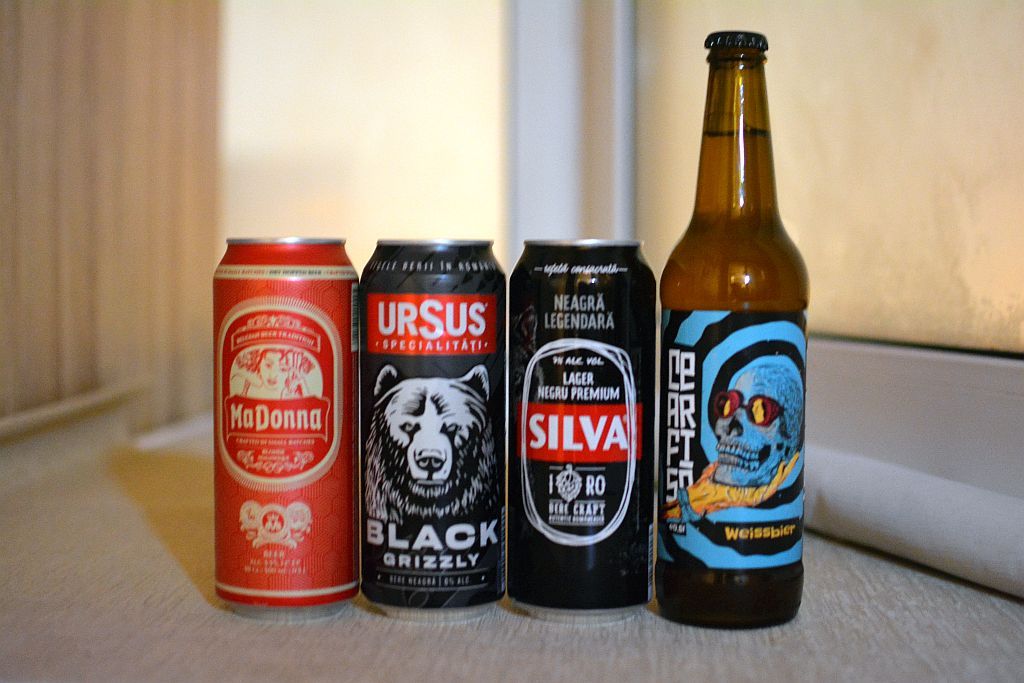 What do you know about Romanian beer? I personally know nothing (judging by the lack of blog entries). Maybe I've tasted it at some get-together, but I haven't had a chance to taste it in any thoughtful way. And so, a good friend Igor, brought a few pieces to try. In addition, a couple of Bulgarian ones, but more about them later.
MaDonna Blonde Magnifique (Galati, Romania) – 5,5/12 Beer brewed in the Romanian brewery of the Belgian group Martens. A kind of Romanian Belgian. The style is blond. Aroma is malty, floral. The taste is soft, clean, sweet. In the aftertaste lollipops, some citrus, flowers and grass. In general – if you do not consider it specifically as a Belgian blond, it is quite pleasant just to drink. Rating "B-".
Ursus Black (Romania, Bucharest) – 6/15 Brewed at Ursus Breweries – owned by Japanese Asahi. The company has three breweries, in Timisoara, Buzau and Brasov. Where exactly this beer is brewed is unclear. The style is dark lager, but with a fairly high alcohol content. You probably can't call it a Baltic Porter. It has a very simple body. Nevertheless, the beer is well balanced. Burnt in the aroma and aftertaste. There is a slight sourness from this burnt. The alcohol does not stick out in any way. Rating of "B". This brand I think I've tried before. At least the name is familiar.
Silva Strong Dark Lager (Bucharest, Romania) – 7/16 Another dark strong beer. Brewed at Heineken Romania. This is where the alcohol starts to stick out. Aroma of wine, alcoholic. Taste is empty, flat and of course clean. In the aftertaste burnt and bitterness, which against the background of a flat body is not very pleasant. Grade "C".
Cearfisă Weissbier (Romania, Iasi) – 5.2/12.9 And this is a craft beer from the Cearfisă brewery. The beer is obviously alive! Fighting for its life and freedom, bursting out of the bottle, pouring all over the table. It was obviously spoiled, sour, although the expiration date had not yet passed. The aroma is sour, vomitous. It's hard for me to even imagine that it was a weitzen. I didn't drink it. I will not evaluate either, although it deserves the lowest grade. I can't believe this.
Summary
Reviewer
Review Date
Александр Иджон
MaDonna Blonde Magnifique
Author Rating