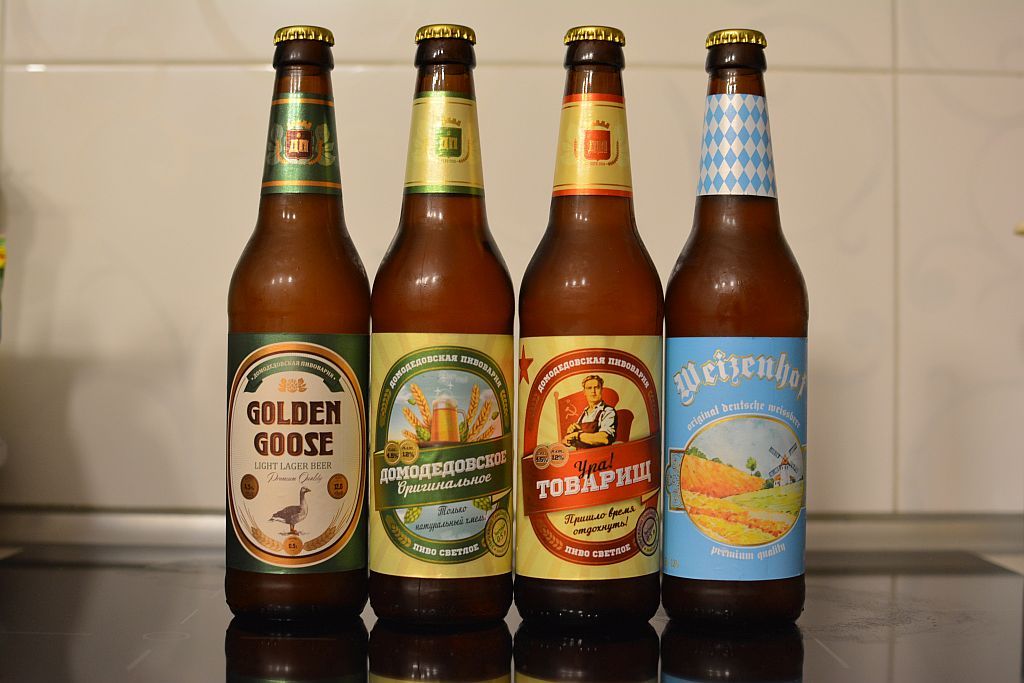 The beer from Domodedovo brewery has been written about more than once and even filmed by the brewery itself. However, the brewery still remains a mystery. Having quite a lot of capacity, being practically in Moscow, its products can rarely be found in the capital.
No, some of them are on sale somewhere. For example, there is always in the chain Rest. But this is a Kraft series. Where do they put their "regular" – I do not know. Given that the Domodedovo brewery is affiliated with the Morshansk brewery, most likely all production goes to the regions. This is probably the right thing to do. Look at the labels – how can they be sold in Moscow with this design? Clearly designed for the regional consumer.
Golden Goose (Russia, Moscow region, Domodedovo village Pavlovskoye) – 4.5/12 Aroma of malt and flowers. The taste is soft and clean. Bread and very light hops in the aftertaste. For the usual light and unassuming lager, very good. Clean, tart, and drinkable. Rated C+.
Domodedovskoye original (Russia, Moscow region, Domodedovo village Pavlovskoye) – 4.5/12 The aroma is weak, malty. Taste is slightly caramel, but empty and flat. In the aftertaste felt a little carton, otherwise clean. A rather dull beer. Rating "C".
Tovarisch (Russia, Moscow region, Domodedovo village Pavlovskoye) – 4.5/12 Apparently, it is also Domodedovskoye original, but with a different label. Not only the same specifications, but also the taste. Drank them in a row and did not feel any difference. The feeling is the same, as well as the grade – "C".
Weizenhof (Russia, Moscow region., Domodedovo village Pavlovskoye) – 5/13 I wonder – how can weizen be so bad? No, everything is clean here as well as in other beers from Domodedovskaya, no defects, but it is hardly possible to call it Weizenhof.
First of all, the color – it is almost transparent (it does not reach the level of crystalline witzen, too). The aroma is a very, very inarticulate banana. The taste is sweet, but not bready, not full – empty. The aftertaste is weak, too (and this is from Weizen!). No clove tones to speak of.
I understand that it's very difficult to make a good Vicenne, but to make an ordinary Vicenne is not like launching a rocket into space! Maybe it is because Olga Teslenko has left the plant that these things happen… It is not clear. Grade "D+".
Summary
Reviewer
Review Date
Александр Иджон
Domodedovskoye original beer
Author Rating