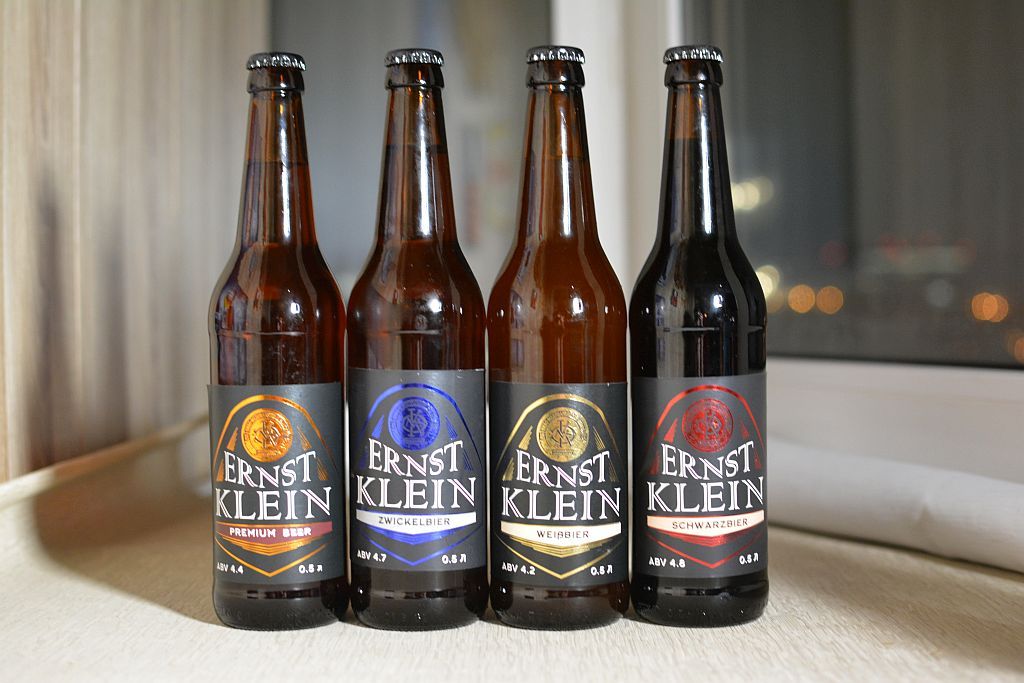 The day before yesterday I wrote about Rzhev Brewery, and today I will tell you about a beer from the same city, but from a big brewery that is now called Ernst Klein Brewery. It is an old brewery founded in 1872 by the German Ernst Klein. One of the beer lines is called Ernst Klein (they spell Klein in Russian for some reason).
The design is quite decent for a regional brewery. There are a few more beers in the lineup, in addition to those pictured, but I did not buy them all. I just wanted to familiarize myself with the basic brews.
Ernst Klein Premium (Russia, Rzhev) – 4.4/11 Amber Lager. Pretty clean for a regional brewery. A little bit of caramel and some malt. Otherwise very watery and mealy. Just a completely empty beer. Rated C-.
Ernst Klein Zwickelbier (Russia, Rzhev) – 4.7/13 Promised "a beautiful stable foam cap", as actually zwickel should be. Foam has settled very quickly, as soon as I took away the camera. Also no "aroma of hops and a long aftertaste. There is no aroma at all. The taste is sweet, kind of candy-like. A feeling of under-fermented beer. Well at least there are no obvious defects. Rated "D +".
Ernst Klein Weisbier (Russia, Rzhev) – 4.2/12 Also a strange drink. It doesn't look like German Weizen at all. There is citrus in the aroma and aftertaste, which makes it similar to a Belgian blanc. And the blanche is made with WB Mix or other similar additives. That said, it's already traditionally watery and hollow. Rated C-.
Ernst Klein Schwarzbier (Russia, Rzhev) – 4,8/14 As a rule, such breweries get the dark varieties best, because the dark malts give at least some taste. Plus dark malts mask defects, if any. There is a funny phrase in the official description (mRacketologists keep burning with the verb):
At the same time, the smoky flavor typical of some dark beers is completely absent here. Thus, our brewers managed to solve the tricky problem of the contradiction between the very dark color and the mild pleasant taste of this drink.
What does smoking have to do with it? If you don't make rauchbier, why should it show up in a dark beer?! What "tricky problem" has been solved?! Ridiculous.
The aroma is faint, so is the froth. The taste is mild, sweet with a touch of a candy theme. There's a bit of ash in the aftertaste. Overall, the best of the line. C grade.
The only pluses of the beer sampled can be considered the absence of pronounced popular defects, such as AMD, diacetyl and wet cardboard. Otherwise it is very inarticulate, watery and out of style.
Оценка
Дата
Пиво
Рейтинг