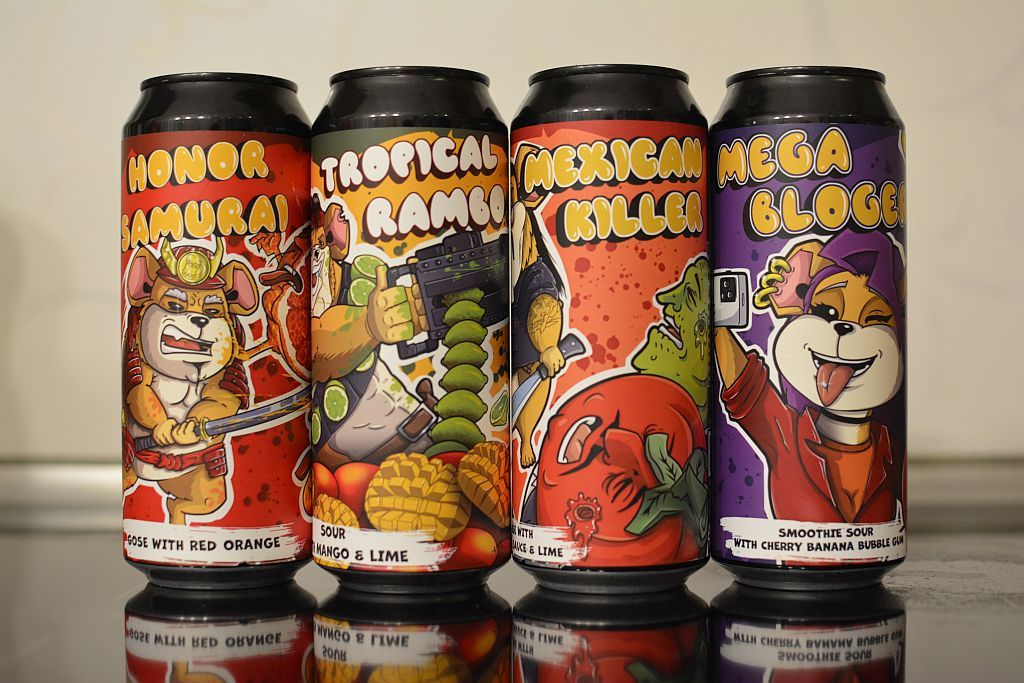 Homosapiens is a contract brewery. It's brewed at Green Street Brewery (aka Dyokort). I first tasted it at Green Street when Pavel Egorov and I went there. It was there that we met the brewer, Alexander. He promised, as soon as all varieties were ready, to pass them over for tasting. Which he did at KlinMayFest. At the moment, there are only four beers in the Homosapiens lineup. They are all in the trendy current fruit-and-acid-smoothie theme.
Tropical Rambo (Russia, Moscow) – 5/12 Sour with mango and lime. Mango comes first, but apart from the acidity, the lime also gives you a tartness, which perfectly sets off the sweetness. Rated "B+".
Honor Samurai (Russia, Moscow) – 5/12 Salty Red Orange. Very original and yet tangy. Would be perfect in the summer at the cottage! Rated "A-".
Mega Bloger (Russia, Moscow) – 6.5/16.5 Sour-sweet smoothie, funny bright pink (not very visible in the photo) color. The taste and aroma is cherry and banana. And it's all in the form of bubblegum flavor – a kind of liquid bubblegum. Very funny! Rated B+.
Mexican Killer (Russia, Moscow) – 5/13 Tomato goze with lime and pepper. Moderately spicy (but to some people it depends). Lime is very good! Mexican michelada. Tasty, but traditionally I do not rate the tomato.
All of these are far from my favorite styles of beer and you can argue about whether it's more beer or cocktails, but it's delicious and has its own consumer. As for Homosapiens beers, they are all at a high level and another good thing is that they have a common concept in design. I wish Alexander to develop further and would love to try new products.
Оценка
Дата
Пиво
Рейтинг